Tommy Ward death: Two arrested on suspicion of murder – BBC News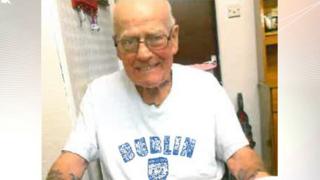 Two men have been arrested in connection with the murder of an 80-year-old man who died following a violent robbery at his home.

Tommy Ward was found badly beaten at his home in Salisbury Road, Maltby, on 1 October 2015. Around £30,000 was thought to have been stolen.

He died from his injuries in hospital on 23 February.

South Yorkshire Police said the two men, aged 35 and 30, were being questioned on suspicion of murder.

The force said the arrests followed several raids in the Aston, Ulley, and Wales areas of Rotherham and in Hackenthorpe and Stradbroke in Sheffield as part of the continuing investigation into Mr Ward's murder.